"And my God will supply all your needs according to His riches in glory in Christ Jesus." Philippians 4:19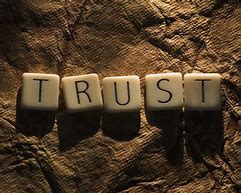 "If you're not the lead dog, the scenery never changes." I remember Lewis Grizzard saying this years ago, but I'm not sure he invented the phrase. You get the point though, and all of us have been trained to get out front and take charge. You don't want to leave your destiny in the hands of others. Only you know what's right for you. The sayings are many, but the meaning is consistent; you have to be in control of each aspect of your life to make it function correctly.
An alternate view comes from God himself, when He relays to Isaiah that His ways are not our ways, and His thoughts are higher than our thoughts. Just suppose, for a minute, that the creator of a person might know the highest and best use for that person better than the person itself. Radical thinking indeed!
I just returned from a visit to Israel and was told an interesting story by our guide, Shimon. We had stayed at a hotel owned by a Kibbutz, and he was trying to explain the concept of kibbutz living to western americans. Our initial, limited view would be to compare them to the communes that formed in the sixties (1960's for any millennials reading this). That would be a poor comparison to an actual Israeli kibbutz community. I would encourage you to do some research on your own for a complete understanding, but a collective group pledging their possessions and working for the good of their community and Nation and trusting that the kibbutz will supply the necessary things they need is a summary. They have been a highly respected and crucial part of the Israeli state since 1948, and I was impressed to find out that these are not just simple farm co-op's, like they were in the beginning. They have become sophisticated communities and include teachers, doctors, lawyers, etc., that work outside the kibbutz, but continue to function as part of it and give their earnings back – as they have their identity in the community. In return, food, housing, education, clothing, etc. is supplied by the kibbutz. We would probably see that as socialism, they see it differently.
In our kibbutz education an interesting incident came up. Shimon told us of a situation where one member, a bus driver, decided he wanted to keep his tips (arguing they were not part of his normal wages that he shared) and not turn them over to the kibbutz he belonged to. The kibbutz disagreed and the case went to court and the kibbutz won. He appealed, and it then went to the supreme court and again the kibbutz won.
The following morning, one of my travel mates, Don Louis (who is very introspective and discerning) asked what I thought about that case. I hadn't really thought about it at all truthfully, other than finding it interesting. He asked if I believed it was harsh to take his tips like that since he was already giving his salary to the kibbutz. At first glance we did think it was overreaching, most likely shaped by our western business culture. But as we continued to talk we began to view it from a different perspective. A spiritual perspective.
We started to look at it like God looks at us. The two of us were literally standing in the Holy Land, walking where Jesus walked and contemplating a life fully surrendered for us. It was then we asked each other, are we telling Jesus we'll give Him some things, but we want to keep our tips? We like what He gives us – and we'll be partially surrendered – but we think we can do better with some things ourselves. We discovered it really isn't an issue of money, it's an issue of trust. Do we really trust God to supply our every need? All of us want to negotiate. We are all that bus driver.
I proclaim to trust Jesus, but I want to hedge my bet. I want to hold something back, even if I deem it small, just so I retain a measure of control. So I can have the opportunity to do what I want, when I want if I so choose. That my friends is not surrender. Jesus is very clear in His message, "for whoever wishes to save his life will lose it, but whoever loses his life for my sake will find it." (Matthew 16:25). I simply can't lose my life and try to keep it at the same time. It's all of one or all of the other. Jesus gave up all of Himself because He desires all of me.
As I sat in Gethsemane and tried to imagine the full weight of my sin as it was pressing down on Jesus, I couldn't help but think of His words to His Father; "yet not what I will, but what you will". He held nothing back on my account and has promised that if I give all of me to Him, I will receive back more than I can ever imagine. His saving grace is enough, and it came at an exceedingly high price. A price Jesus paid on my (and your) behalf. I owe Him nothing less than all of me. Tips and all.
R